Scandinavian Wood
Length: 1.35 m
Width: 29.5cm
Thickness: 9mm
Each pack   = 3.186 sq metres (2.7m x 1.18m)
Price — 120 € /pack ( 3.186 sq metres )
---
KERRADECO intelligent wall system
How to design a wall to be unique, yet functional and durable?
To respond to this need we started to look for alternatives to the previously used wall finishes. Based on our knowledge and many years of experience, we have developed the KERRACORE technology resulting in a state-of-the-art and extremely durable material that we used to create KERRADECO.
KERRADECO is a wall system for universal use. It is waterproof and fire rated. Due to its characteristics it can replace: MDF boards, wallpapers (moisture-resistant) or ceramic tiles (does not crack under impact, does not require grouting). KERRADECO is perfectly suited for rapid construction of partition walls. The installation of the system is easy and fast and rooms finished with the use of KERRADECO can be used immediately.
A wide range of colours and a variety of surface decor structures allow you to design beautiful and durable solutions for all types of interiors also including wet areas. The ability to combine boards from various collections and implement personalised designs provides an unlimited interior design potential.
We invite you to learn more about KERRADECO wall system!
Very functional
ready to install, complete wall system
easy, clean and do it yourself installation
perfect for constructing partition walls
Created for design admirers
an effect of many months of work executed by a team of designers being prize-winners of numerous prestigious competitions
ensures unlimited arrangement possibilities thanks to the use of the highest quality digital printing
textures and design refer to natural materials and they are in line with the newest trends of interior decoration
Highest quality digital printing
pattern width 120 cm
pattern created by 4 panels
Possible applications
KERRADECO combines advantages of existing wall claddings while eliminating their drawbacks
perfect alternative for MDF boards, tiles, drywall, wallpapers, paints, etc
designed for demanding applications: exposed to moisture, water, scratches and abrasions, e.g. bathrooms or corridors
---
KERRADECO vs paints — wallpapers
resistant to mechanical damage, resistant to moisture and water
masks unevenness of walls
easy-to-clean
does not require additional work in preparation for the base as well as protecting an upper layer
---
KERRADECO vs ceramic tiles
do not crack under impact
do not require jointing
reduced time of installation.
---
KERRADECO vs partition walls made of plaster – cardboard panels
three operations (mounting of plaster-cardboard panels, filling, painting) are replaced with one – KERRADECO panels installation
---
Fast and easy installation
no need for wall surface preparation
conventional carpentry tools usage
easy to cut, no dust
connecting panels:

tongue and groove joint system
long and short side connection (FB 300 135 cm)

do-it-yoursel installation (long boards, tongue and groove joint system, simple finishing trims)
can be instlled using the finishing trims or without.
Installation options
adhesive installation — only on stable base (concrete, tiles, plaster- cardboard panels) (1)
frame monuting — reduces curvature of the walls (2)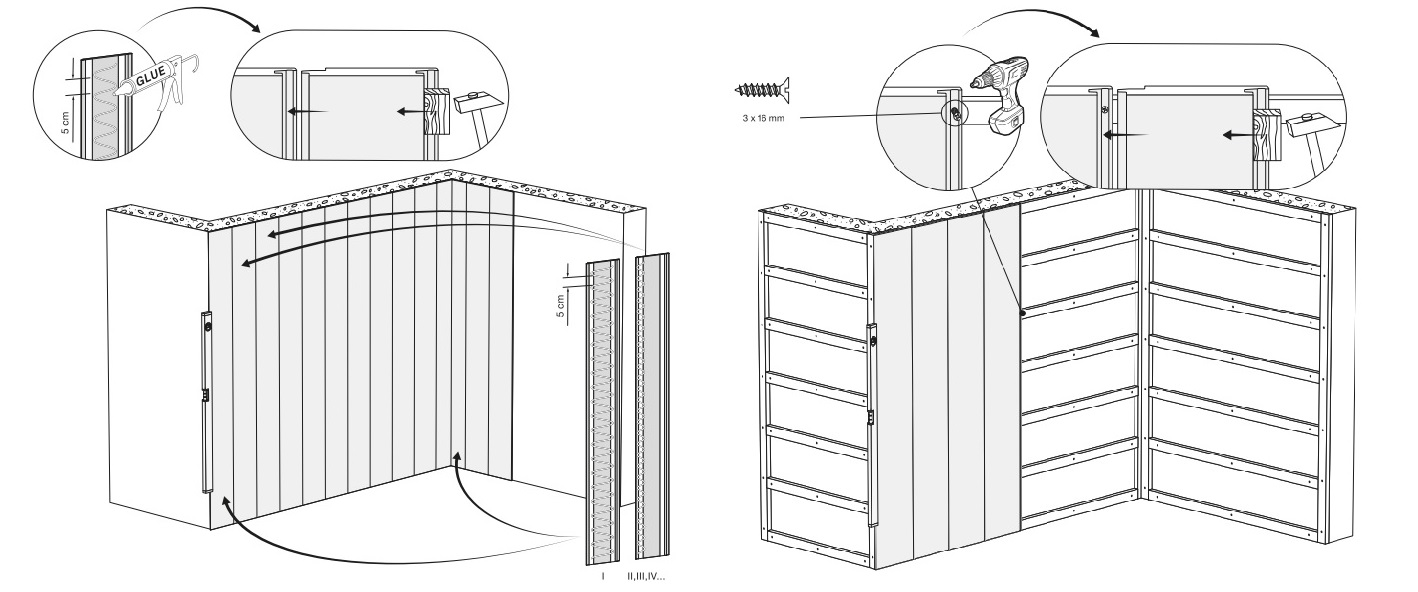 We invite you to learn more about KERRADECO wall system!